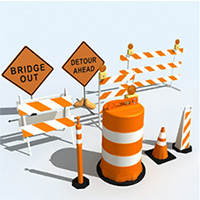 About Service Signing L.C.
Service Signing L.C. specializes in traffic control for heavy highway contractors. The company was founded in 1996 and has seen steady growth since that time. Located in Waterloo, IA, Service Signing provides traffic control services throughout the state of Iowa.
Projects include supplying products to small contractors for local rentals all the way to heavy highway interstate closures.
We strive to provide the best traffic control services in the state in the fastest time, helping our contractors begin work on their project in a timely fashion. Quality service and reliability are the main assets to the success over the last 13 years.